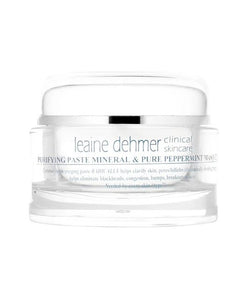 PURIFY "SKIN DETOX" PASTE A Revelation for Vibrant Skin Health + Brightness
Regular price $89.00 Sale
Serum Potency  "Skin Detox" Masque Therapy 
A miracle in a jar, not kidding! Pollution Particles absorbs in your skin wreaking havoc. My "Skin Detox"
ritual I created to pull toxins & pollution particles not just out of pore/follicles but from your skins surface tissue. A mineral softening formula stunning for its ability to transform every skin type at every age! With its audacious list of benefits and your desire for gorgeous skin…….. open the jar, open your possibilities! Leaine 
Benefits: 
Visible skin will Radiate a Fresh Glow & Brightness
Revitalizes dull skin
Restores skin's clarity
Visible reduces pore/follicle size
As an overnight "spot" treatment, greatest disappearing act ever!
Dramatically reduces bumps and uneven texture
Ultra-concentrated mineral rich bentonite clay leaves a Silky feel
Detoxifies skin by lifting off "film" build ups
Improves active ingredients penetration 
Vanishes impurities, white/black heads
Prevents their recurrence 
Eliminates & Prevents breakouts 
Vital partner to any Acne program
Use: 1 - 3 x's a week. Immediately after Skin Breather. Apply generously to: entire face or T-Zone or areas effected by breakouts. Avoid close to eyes due to active pure peppermint.. Let sit 8-15 minutes, rinse. Secret Weapon: at night just before bed, dab a generous dollop over any "monsters" leave on overnight for a fabulous disappearing act.
Note from Leaine:
Extremely active formula. We have witnessed for years with my Spa Professional Facials it's ability to transform skin. It's truly a game changer for every age & skin type.