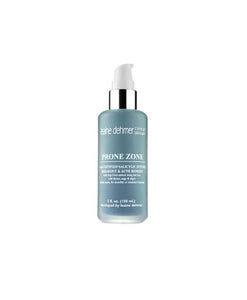 Prone-Zone Clear Skin Serum
Regular price $0.00 $58.00 Sale
BREAKOUT & ACNE RECOVERY 
When zit happens! Stunningly & Quickly clears areas prone to mask-ne + breakouts + monthly flare-ups + hot weather breakouts and overall blemishes. Non-Drying + Non-Irritating Clinical Salicylic Acid formula unclogs + de-congests + purifies each pore deep down with oxygenated molecules. Serious formula with nature Tea-Tree, Wild Thyme, and Red Algae anti-bacterial, skin protecting, and clarifying support. Brilliant in recovering clear skin year round, during hot summer months, monthly flare ups, and when traveling. Consistant top favorite for a reason. Enjoy your flawless skin journey. Leaine 
Benefits: 
Recovers a clear complexion
Visible eliminates breakouts
Prevents skin irruption from reoccurring
Perfect to prevent & recover monthly flare-ups
Recovery treatment during body detoxing & diet changes
To Un-do: Rise & Rest apply where needed. Let set about 60 seconds before applying other products in your daily routine. Example: order of use, skip to next step for products you may not have yet.
Daily Routine 1 - 3 minutes twice a day
Cleanse and pat dry
Prone Zone
Nano Silver Mineral Skin Cocktail
Moisture Enter-Lock increases water hydration, decreases oil production
M.D.R.11 (Maximum Daily Requirement) 
Sun Defender (non-greasy AM protection)
Experience: Years of testimonies as a must have favorite. Whether you use in your Daily Routine, monthly, occasional breakout, summer or travel time. Prone Zone works customized to your needs.