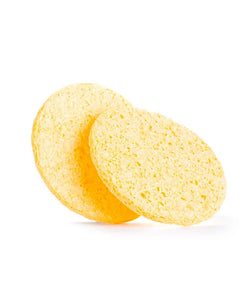 The Sponge Theory Natural Cleansing Sponges
Regular price $5.95 Sale
 ALL NATURAL Cellulose Sponges
Gently boost the cleansing process when removing my Kind Cleansers and Eye-Dration Eye Makeup Remover without tugging on your delicate skin tissue.Scoops out impurities from the pores/follicles on skins surface. 
Benefits: 
Heightens a purely fresh skin
Has a gentle sweeping away of dead skin cells
Won't grab, tug or pull delicate skin.
Gently thorough cleansing of eye area helps prevents morning "goo balls"  
Easy to travel with
Their just simply awesome and a must have as I designed them to work with my cleansing methods
To Use: Gently wipe dampened sponge/s (I recommend removing eye makeup !st) over eyes and face for complete makeup removal. Professional Tip; (let me help a sister out). For thorough eye makeup removal, with open sponge wipe off eye makeup, fold sponge in half to wipe under top lash line where mascara hides and above lower lash line.  Rinse with warm water after each use. Allow to air dry by proping up against the wall. Machine wash in  garment bag as needed.  Do not machine dry.(heat can crack sponges). Replace every month. 
Experience: 
I created my Sponge Theory for my in Spa Facial treatments to increase remove-ability of surface products. Enjoy