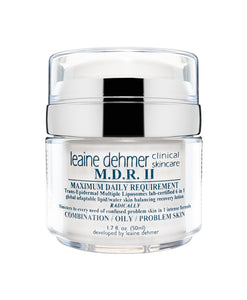 Maximum Daily Requirement MDR 11 Lipid Lotion
Regular price $0.00 $79.00 Sale
SURFACE HYDRATION TREATMENT CORRECTOR for CONFUSED OILY & TROUBLED SKIN 

 This luxury Lipid + Humectant Lotion delicately melts into your skin absorbing in seconds. Gloriously balances, nourishes and protects your skin from the environment + elements all day. Brilliant for your active lifestyle, supports skin health and aging demands. With it's intelligent humectant system, adapts globally in any environment you live or travel. A luxury delivery liposome formula of vitamins A, C, and E, Beta-Carotene & Superoxide Dismutase complex (protects against skin damage, free radicals & environmental assaults). With over 25 active ingredients, this cream is a life force to viably sustain & reduce the signs of aging for ageless skin.
Visible reduces existing signs of aging 
All natural herbal cocktail with anti-bacterial remedy for hotter weather climates
Visibly balances a higher oil ratio skin's 
Liposome Delivery System for optimal results
Increases collagen in skins tissue
Firms skins fibroblast network for a visible lifting action
Visible reduces redness & sensitivities
5-in-1 treatment cream for
Eyes
Face
Neck 
Decolletage
A Day & Night cream
Application: ALWAYS start with LeAine's water soluble Kind Cleansing Method.  The first of their kind that leave no invisible residues, the leading cause of confused skin!
Experience: For intense problem solving also use Prone Zone (clear skin remedy) and Purifying Paste Masque.