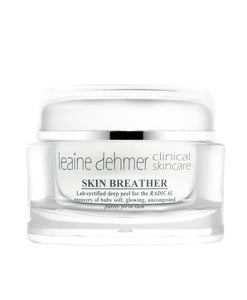 Skin Breather The "Peel"
Regular price $85.00 $85.00 Sale
 Transforms + Propels Youthful Skin Cells + Gorgeousness 
In our youth skin cells rejuvenate in a cycle of 28 to 31 days. As young as our late 20s early 30s it drastically changes to average 45 to 90 days. Skin Breather Deep Peel fortifies a youthful cell cycle revealing "younger" cells at all times!  In 4 weeks you'll experience a dramatic change in skins vibrancy + clarity + visible younger looking skin. A complex of fruit enzymes + fruit acids + algae peptides to completely transform your skin healthy! Feels like my skin can BREATHE........... Enjoy the experience, Leaine
Benefits: Exfoliation is your #1 tool for Anti-Aging and a Clearly Fresh complexion! Dead skin cell "buildup" is called a "buildup" because it is layers deep, covering the skin's surface like a blanket. This blanket
clogs pores/follicles
is very porous like a sponge, will suck up precious (expensive ingredients) and suspend them at the skins surface; ultering products ability to penetrate deep within where skin needs it
slows skins turn over metabolism "rejuvenating response" which naturally occurs as we age; instead lets turbo-charge it!
Unlike scrubs, I call surface dusting, Skin Breather Deep Peel removes layers of dead skin cells optimizing skins ability for incredible Transformations! 
Immediately re-textures skin with an incomparable baby softness
Stimulates skin to mimic a youthful metabolism
Astonishing improvement of penetration of active ingredients
Increases skins cellular renewal to reveal younger cells
Within 1 week you'll notice a dramatic improvement of the appearance of fine lines, deepend lines, and a clearer complexion
Blackheads will begin to disappear before your eyes!
Powerful defense against acneic skin
Empowers a closer shave
Dramatically improves facial ingrown hairs
Helps soothe razor rash + bumps 
Use:Rise or Rest your choice 4 times a week! Apply to freshly cleansed damp skin. Let sit 3-7 minutes to activate, rub around and rinse. Can be used on entire face and neck. Use lightly around the eye area. Follow with masque treatment.
Experience:

 
Feels like a scrub but it is not! Round beads only act as a buffer to lift dissolved layers from peel off the surface of skin. Remember to rub quickly in circles before rinsing.