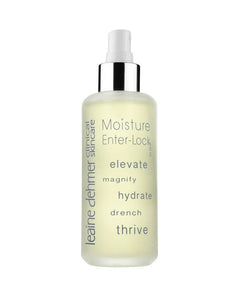 Moisture Enter-Lock
Regular price $89.00 $89.00 Sale
SPRAY ON SUPPLEMENT FOR ULTIMATE SKIN HEALTH
Moisture Enter-Lock revolutionizes skin hydration by its technology of multiplying water molecules + supplying nourishment + moisture under your skin's surface and is the activator of my full hydration system of humectants (moisture magnets). Absorbs into the Basel Layer where vibrant plump skin cells are, and where your skin is begging for hydration because creams cannot reach to this layer. Until now, your creams have been "sealing" in tap water, seriously? The greater your dehydration needs, the more visible loss of volume/skin plumpness + bounce and skin healthy vibrancy. 10 years of research & development lead me to create.......... a spray on vitamin supplement hydration solution to "MIMIC" your skin's internal fluids & nourishment supply where needed. Impressive test results show this moisture creator multiplies water molecules + binds hydration 24 hours leaving your skin in a moisture surplus by nights end. 
Surges moisture  deep within your skin for 24 hours! Applied prior to your moisture Cream, spray on let it all soak in. Until now you've been "sealing" in tap-water!
As a moisture activator adds humectants inside your skin, (moisture magnets), and activates the humectant system in Leaine's serum, masque & moisturizer formulas. 
Benefits: 
Increases hydration at a deeper level. Profound to skin health
Visibly begins to reveal glowing hydrated skin 
Revolutionary in thought and results!
Creates water supplies & hydrates the epidermis for 24 hours
Cocoon's skin in a moisture "habitat"
Potassium enriched 
Visibly reduces skin redness
Visibly reduces skin sensitivities
Application:
Twice a day. Rise & Rest. Spray over face & neck or into hands. Pat into skin and around eyes. Apply before face or body cream. Amazing recover for crepe body skin, especially arms & legs. Spray into damp hair at ends before applying other hair leave ins.
Experience:
 I create necessary & unique approaches to skin health.