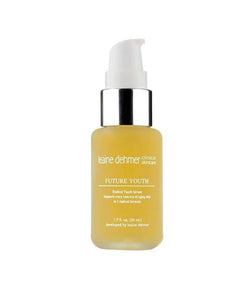 Future Youth Liposome Serum 1.7oz $179.00 5oz $425.00
Regular price $179.00 Sale
Serum Therapy to Age Well

Works IN your skin not ON your skin. A rare Multi-Liposome Delivery Technology for the penetration of Serum Power active ingredients to your skin. Superoxide Dismutase known in skincare as one of the most scientifically advanced free-radical skin cell defenders. Future Youth restores skins metabolism of youth, with a blend of Matrixyl® 3000 supporting the activation of the skin's cutaneous repair process. Matrixyl® 3000 visibly changes wrinkle dept + improves tone + lost volume + firmness. A stunning topical 20% vitamin C Encapsulated Liposome to produce & support collagen production. With a liposome vitamin cocktail of A, C, E, and Beta Carotene for skin nourishment & cell protection. Advanced technology Humectant System multiplies your skins water source.
Benefits: 
Multi-Liposome Delivery Technology for the deepest penetration
Visibly witness a youthful complexion within weeks
Reinforces skins fibroblast network of elasticity & collagen
Stimulates collagen synthesis
Visibly diminishes redness, blotchiness, and discolorations
Visibly restructures skins volume & firmness
Visibly reintroduces that youthful radiate glow!
Radical protector of the environment, climate changes, and skin stress 
Rise & Rest. Apply ladybug amount to entire face, neck and around eyes. Don't forget cleavage area. Next, activate humectants with Moisture Enter-Lock then proper M.D.R. Formula. 
Experience: Very concentrated, use a little it goes a long way.