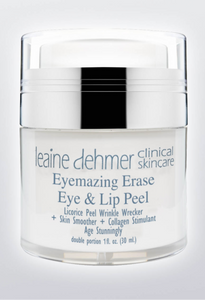 Eyemazing Erase Licorice Wrinkle Wrecker for Eyes & Lips
Regular price $0.00 $195.00 Sale
ERASE YOUR PAST
A global first, cellular renewal dedicated to ageless eyes (and lips). Within minutes, revives & mimics youth by revealing younger cells. Visible fine lines & crape skin disappears, deeper lines dramatically not so deep! A game changer in aging well.

Benefits:
Suddenly eliminates the appearance of fine lines & wrinkles

Visible eliminates crepe skin under eyes & lids  

Visible eliminates upper lip lines (feather lines) 

Smooths the skin around the eye & lip area

Increases circulation

Increases absorption of ingredients

Concealer glides on like silk, eliminating creasing  

Licorice Root beautiful anti inflammatory responder

Helps prevent lipstick from bleeding into upper lip lines
Renew:  2x's a week. Best when you Rise. The mornings you use Eyemazing Erase, do not use SeraCrem Eye Cream, use your M.D.R. Cream; resume Sera'Crem by evening or next day. Apply to cleansed  areas of under eyes, lids & brow area, lips, upper lip & peri-oral lines (sides of mouth).Activate peel 3 - 5 minutes.Remove with Sponge Theory Cleansing Sponges, vigorously over lips to remove access dead skin build-up. 
  
Experience: Warning, a complete addiction! In my Skinsations Spa we include with every facial to transform eyes & lips with stunning results!