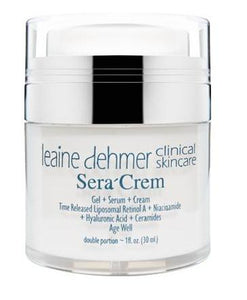 Sera`Crem Serum Potency Eye Cream Limited Edition 1 Oz
Regular price $225.00 $225.00 Sale
Serum Potency Time Released Liposomal Retinol A + Niacinamide + Hyaluronic Acid + Ceramides
For Youthful Eyes + Mouth + Neck
Discover the power of Serum Potency Sera'Crem and witness its capacity to firm & illuminate your skin! This new discovery in science propels micro circulation energy for visibly full of life skin to the vulnerable area's signs of aging first appears. Time Released Liposomal Vitamin A revives your skin all day from the moment you apply, to when your ready to call it a night; eliminating that worn out appearance, reduces signs of aging + brilliantly revives cellular renewal. A slight warmth & tingle may be felt as Sera`Crem creates energy flow visibly reducing, fine lines + deepened wrinkles + puffiness + bags + dark circles, and crepe dull skin. Sera`Crem, so unique I had to create it's own realm of a skincare title! Delicately melts into your skin absorbing in seconds. Say goodbye to perioral (upper) lip lines and visibly lessens deepened nasolabial folds (sides of mouth). 
Benefits:
Visible reduces existing signs of aging
Creates micro-circulation energy that empowers the skin tissue to become radiant and to flush fluid buildup that can lead to puffiness
Brilliant re~volumizer helps reduce purple undertone from thinning skin and blood vessels become visible on your skin's surface 
Hyaluronic Acid  water-binding epidermal skin filler + multiplies moisture
Visibly firms & tightens skin
Time Released Liposomal Retinol A works throughout the day. Visibly reduces fine lines, deepened wrinkles. Increases cellular renewal that slows as we age
Visibly eliminates crepey skin of the neck
Visibly minimizes perioral (upper lip lines)
Visibly lessens deepened nasolabial folds (sides of mouth)
Dramatically increases volume to a thinned skin
Visibly diminishes lines, wrinkles, and crepe skin
Visibly reduces puffiness + under eye bags  
Naicinamide Vitamin B3 visibly improves skin resilience, improves skin tone & evenness, boost skins repair mechanism, helps skin repair past damages causing your skin to become dull, lifeless. Restores skin's radiance 
Use Rise & Rest 1st apply Future Youth and Moisture Enter-Lock. Apply Sera'Crem to:under eyes, lids & brow bone,upper lip, sides of mouth and down neck. Let dry about 15 seconds. Finish with M.D.R. Cream to face, around eyes, neck & decolletage'.  
LeAine's secret: Stop using straws!!! They cause the same action as a smoker, contributing to perioral upper lip lines.

Experience: For overnight radical hydration, apply liberally for an amazing hydration "soaking"!