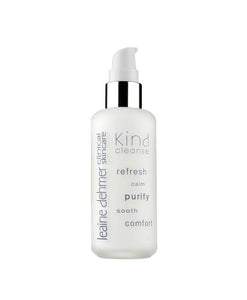 Kind Cream Lipid Cleansing Method
Regular price $39.95 $39.95 Sale
DRY + SENSITIVE SKIN 

WHY TRY SOMETHING NEW? 
With each cleanse you wash away precious lipids; fatty acids equal to water molecules your skin desperately needs. Truly one of a Kind!
Perhaps the most brilliant cleansing method ever created! This hand-crafted all natural creamy serum cleansing method is one of a Kind. Infused with lipids that stunningly softens your skin. Protect your skin's own healthy environment by not disturbing the acidic pH balance or lipid barrier, gently detoxes your skin using seaweed known for its extraordinary benefits of calming stressed skin (anti-inflammatory), is a natural anti-bacterial agent, packed with amino acids, vitamins and minerals.
You will experience a marvelous softening effect as my Kind Cleansers are saturated with Phospholipids, a major component of all cell membranes usually stripped away in the cleansing process. My Kind cleansing method leaves no invisible residues, a "toner" will never have to disturb or dry your skin! Enjoy the kindness!
Benefits: 
Completely water soluble, no harsh drying toner will ever again need to touch your skin
Fortifies & rebuilds your skin's lipid barrier every time you Kind Clease
Gentle for the most sensitive skin
Leaves your skin fresh and softened
You will love to start and end each day with it's natural citrus scent.
To Use: Un-do the assaults against your skin using when you Rise and when you Rest every day. When you Rest cleanse twice when removing makeup. Ultra-concentrated, use about the size of a raspberry, add a few drops of water.
Experience:
You'll experience an amazing softening effect due to the high potency of Phospholipids. Use with my natural cellulose sponges. They won't pull or tug your skin like washcloth's or tissue.